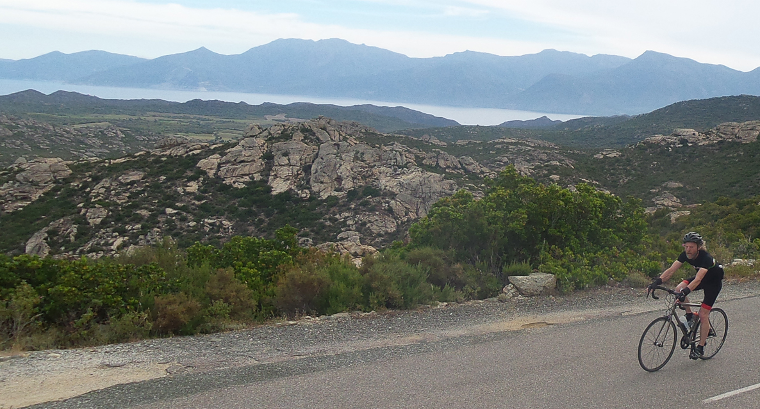 From Saturday 8th September to Sunday 16th September 2018 I am riding my bike from Land's End to John O'Groats. A total of 980 miles in 9 days.
I am doing this to raise money to restore the church bells in my village of Leigh on Mendip in Somerset. The bells of St Giles church Leigh on Mendip were last rehung in 1910, over 100 years ago. While the bells are still ringable (and we have an active band of ringers in the village) in order to keep them ringing for another hundred years they need a major overhaul. For more details about the bells and our project have a look at our Leigh on Mendip Bells page or download our leaflet.
I am going as part of the Deloitte Ride Across Britain. I will be paying for the cost of the trip myself so all sponsorship money will go to our Bell Restoration Fund.
How to sponsor me
If you would like to sponsor me on this ride you can either:
Use my on-line sponsorship form.

Download a sponsorship form, complete it (and get your friends and colleagues to add to it too) and send it back by email to me at julian.back@gmail.com or by post to Julian Back, Roundhill Cottage, Tadhill, Leigh on Mendip, Somerset BA3 5QT.
How to send your donation
You can either pay up front or if not I will contact you after the ride to collect the money. There are a few different ways to send us your sponsorship money:
Pay direct into our Bell Fund bank account. This account belongs to the Leigh on Mendip PCC which is a charity and thus you can use Gift Aid to increase the value of your donation, so please fill in a Gift Aid form and send it to me (or alternatively fill in the Gift Aid details on the on-line sponsorship form). The PCC Bell Fund account details are as follows. Sort code: 60-23-06 account number: 75210029. Please use the reference LEJOG when paying into this account. If you would prefer to send a cheque please make it out to "PCC of Leigh on Mendip with Downhead Bell Fund" and send it to me at the address above.

You can also use our JustGiving page but if you do so not all the money will go to our cause as JustGiving take 5% for administration and the card payment provider takes another 1% or 2%. Unfortunately this can only accept UK pounds.

You can pay into my Paypal account. This can accept most currencies so is the easiest way if you are outside the UK.
Current status
We have been quoted £29,772 to rehang and retune Leigh on Mendip bells.
This pie chart shows how much we have raised so far (including promised grants and sponsorship).

So far over £1200 has been pledged in sponsorship money, in amounts ranging from £5 to £150. I would like to thank everyone who has sponsored me so far.
Please use my on-line sponsorship form if you would like to add to this number!
Following my progress
If you would like to follow my progress during the ride as long as the technology is working I will be logging my ride on Strava and I may also post the occasional update to this website and on my Facebook page.
I will be passing through Somerset on the second day of the ride. We will be going up Cheddar Gorge and staying overnight at Bath University Sports Village. This is the complete route.
| Date | Stage | Route | Mileage | Climb | Finish basecamp |
| --- | --- | --- | --- | --- | --- |
| Saturday 8th | 1 | Land's End - Okehampton | 105.6 mi | 8,232ft | Okehampton |
| Sunday 9th | 2 | Okehampton – Bath | 110.4 mi | 6,852ft | Bath |
| Monday 10th | 3 | Bath – Ludlow | 100.9 mi | 5,948ft | Ludlow |
| Tuesday 11th | 4 | Ludlow – Haydock | 106.9 mi | 3,133ft | Haydock |
| Wednesday 12th | 5 | Haydock – Penrith | 108.2 mi | 5,273ft | Penrith |
| Thursday 13th | 6 | Penrith – Edinburgh | 114.4 mi | 4,223ft | Edinburgh |
| Friday 14th | 7 | Edinburgh– Strathdon | 111.6 mi | 7,294ft | Strathdon |
| Saturday 15th | 8 | Strathdon – Kyle of Sutherland | 118.8 mi | 6,513ft | Kyle of Sutherland |
| Sunday 16th | 9 | Kyle of Sutherland – John O'Groats | 104.1 mi | 4,541ft | John O'Groats |
| | | TOTAL | 980.5mi | 52,009ft | |